2017.04.12 Wednesday
ゴールデンウィークMambongo! 5/6 Sat.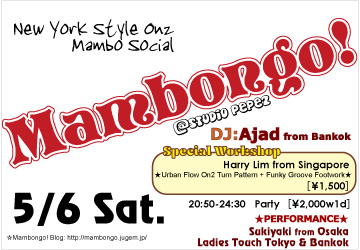 ゴールデンウィークは熱いマンボの予感!
【5月のSpecial Workshop】

「Urban Flow On2 Turn Pattern + Funky Groove Footwork」
Harry Lim from Singapore
19:10-20:50(100min)
ソーシャルフロアの人気者ハリーのワークショップ開催!!
ソーシャルフロアではいつも行列ができる人気者のハリー。
そんな彼がマンボやアフロ・ラテン・ファンクのみならずあらゆるスパイスの詰まったダンステクニックを惜しみなく伝授してくれる100分のスペシャルワークショップ!
他ではなかなか味わえない内容です!!!
Harry Lim Biography
Born and raised in Singapore, Harry's dance education began when he was studying in the UK in 2004.
His main source of inspiration has been the enigmatic New York dancer and choreographer,Frankie Martinez, and has trained extensively under him in Mambo and Afro-Latin funk.
Harry also counts many others to have contributed to his understanding of Latin dances, most notably Sergio Jasso, former director of Alma Latina, in the area of Bachata.
Aside from the Street Latin dances, Harry has influences from other dance forms such as Ballet, Dunham technique, Horton technique, African/Contemporary, Hip hop, and Jazz.
He has established himself as a fine dancer in the European and Asian salsa scene, renowned for his musical interpretation, unique style, boundless energy, and enjoyment of the dance.
He has been invited as a guest instructor and performer for various events and congresses around Europe and Asia.
DJ:Ajad from Bankok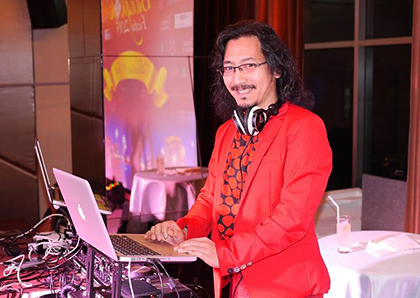 Performance:
Sukiyaki from Osaka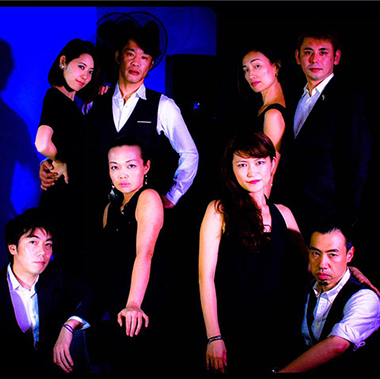 大阪のHOTなダンサーが集結!!
2013年に大阪で結成され、日本各地のみならず上海や台北など海外でもパフォーマンスを披露したSUKIYAKI がパワーアップして再始動!
主に関西でインストラクターやオーガナイザーとして活動しているキャラクターの濃ゆすぎるメンバーが集まりました。
それぞれの個性を生かしつつ、チームとしてみんなで一つの作品をきっちり魅せれるパフォーマンスを目指して頑張ってます。
応援と愛のあるヤジをお願いします。
Ladies Touch Tokyo & Bankok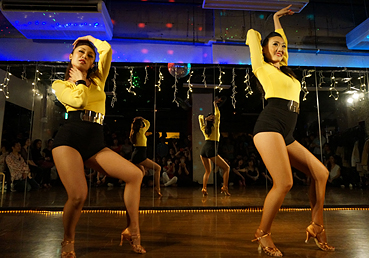 ◆◆◆Mambongo! 5/6 Sat.◆◆◆
5月6日(Sat) 19:10-24:30
六本木Studio PEPE-2
港区六本木7-17-12 ビジネスアパートメンツB1

[MAP]http://www.studio-pepe.com/map.html
Address: 7-17-12-B1,Roppongi, Minato-ku Tokyo
(Tokyo Metro Hibiya Line Roppongi Station 2-minute walk from Exit 2)


19:10-20:50 Special Workshop by Harry Lim ¥1,500
※ワークショップのみの参加はできません。

20:50-24:30 Party ¥2,000(w1d)
NEW YORK STYLE ON2 SALSA MAMBO SOCIAL Mambongo!
Mambongo! is one of the hottest mambo Social in TOKYO!
Warm, friendly & comfortable atmosphere…