2017.10.15 Sunday
Mambongo! 11/4 Sat.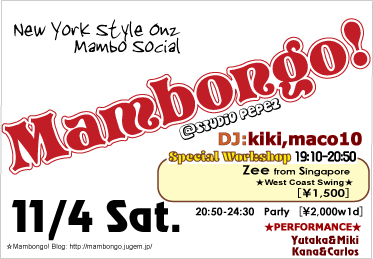 Salsa、West Coast Swing、Tango、Bachata...
秋の夜長はマンボ&モア!
【11月のSpecial Workshop】

「WCS入門、サルサで魅せれる使い方を学んでみよう!」
Zee from Singapore
19:10-20:50(100min)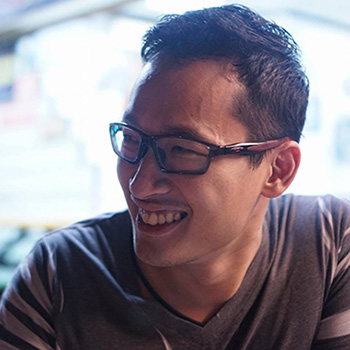 シンガポールから来日中のZeeによるWCSのスペシャルワークショップ!
"Mambo meets West Coast Swing"
☆スペシャル入門編☆
サルサダンサーが学ぶWest Coast Swing!
テーマは
「サルサで魅せれる使い方を学んでみよう!」

Zeeはサルサコングレスで長い行列ができる超人気ダンサー!!
SalsaでもWest Coast Swingでも
アジアのトップクラスダンサーであるZeeだから教えることができる特別なワークショップです。
この機会にぜひWCSの魅力を体験してみてください♪
Wee Tze Yi (Zee) Biography
Wee Tze Yi (Zee) is one of Asia's most recognized dancers and instructors. He started Salsa back in 2002 and has progressed to the international stage, showcasing his talents at International Salsa Congresses all around the world.
He has collaborated and partnered some of the most famous dancers in the World such as Australian Open champion Sharon Pakir, and Mambo Queen Magna Gopal.
He has won many competitions both locally and abroad - his greatest of which is winning the Asian leg of the World Salsa Championships and becoming the first Singaporean to do so.
In 2011, Zee, picked up a new dance called West Coast Swing, and in 3 short years, became the first Asian dancer to reach the 'All-Star' division on the International Competition circuit. Although he hasn't been dancing WCS for as long, he has already been invited to judge, showcase and teach internationally - USA, Australia, France, New Zealand, Malaysia, etc.
He is a passionate instructor who is always hoping to inspire students to move to the next level and challenge themselves. Yet, he tried to make his classes fun and entertaining, but still impart very sound technical proficiency.

DJ:kiki,maco10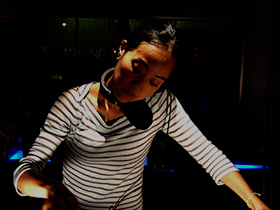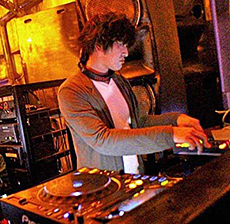 Performance:
Yutaka & Miki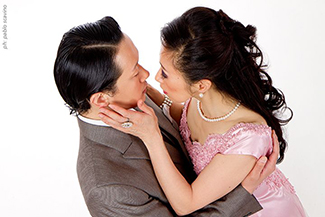 2017年タンゴダンスアジア選手権ステージ部門チャンピオン!
Calros&Kana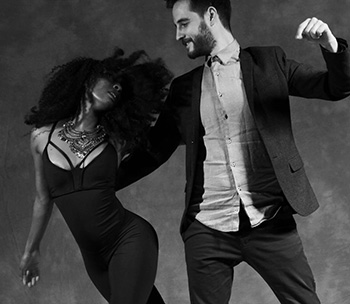 ◆◆◆Mambongo! 11/4 Sat.◆◆◆
11月4日(Sat) 19:10-24:30
六本木Studio PEPE-2
港区六本木7-17-12 ビジネスアパートメンツB1

[Access]
Address: 7-17-12-B1,Roppongi, Minato-ku Tokyo
(Tokyo Metro Hibiya Line Roppongi Station 2-minute walk from Exit 2)



19:10-20:50 WCS Workshop by Zee¥1,500
20:50-24:30 Party ¥2,000(w1d)
※ワークショップのみの参加はできません。
NEW YORK STYLE ON2 SALSA MAMBO SOCIAL Mambongo!
Mambongo! is one of the hottest mambo Social in TOKYO!
Warm, friendly & comfortable atmosphere…